We recently completed a unique study to explore the drivers of stronger donor intentions and behavior. We wanted empirical evidence to help guide non-profit organizations to focus on the most important characteristics of their fund-raising appeals and solicitations.
The study was conducted across the USA and Canada to determine the characteristics that drive greater donor appeal for non-profits, for both retention of current donors and acquisition of new ones. It is based on thousands of individual assessments and uses advanced analytics to derive the most important drivers.
We are pleased to share some of the research findings. These insights will help non-profits improve their future fundraising appeals and communications.
Communicating mission performance is necessary, but not sufficient to drive donations. Many charities already perform well at this level, but it is not appealing enough.
Donation behavior is driven most strongly by personal and emotional connections, and a sense of urgency; but many non-profits fail to properly leverage emotional appeal.
Only a small percentage of donations come from people who were not directly solicited. Even people who intend to donate need to be solicited (in part because they are also being solicited by other non-profits).
Based on this research we created an evidence-based model to quantify an organization's profile (strengths and weaknesses) for donor appeal against norms. Non-profits can now get their profile, benchmarked to the empirical data-base. – How does your organization perform? What are your areas of strength and what opportunities are there to improve donor appeal?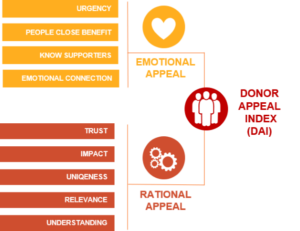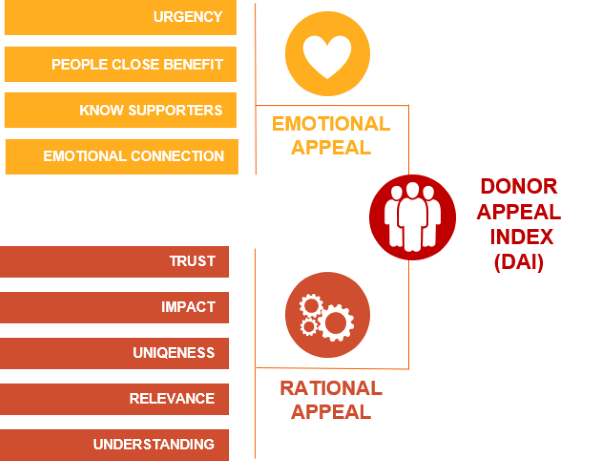 It is validated to donors' giving intentions and behavior across thousands of non-profit assessments in North America
It provides strong evidence about which characteristics matter most
It provides a summary of how organizations are perceived for these same characteristics, benchmarked against norms
It guides a non-profit towards which characteristics of its equity are strong, and which may need strengthening to enhance donor intentions and greater appeal
The non-profit's performance is profiled in the Donor Appeal Index (DAI), which is comprised of both Rational Appeal and Emotional Appeal. The higher this Donor Appeal Index (DAI), the more attractive the charity and the more likely to earn donations. 
TAKE-AWAY FOR NON-PROFITS:
Make sure fundraising appeals do not focus too much on the mission and rational information, but seek to enhance the emotional connections and underline a sense of urgency to act now.  Donor appeal can be measured, quantified and opportunities for improvement identified. Consider a DonorBuilder™ evaluation for your non-profit organization to lean more about driving greater donations.
Find out more about the research findings, download the free summary,
or contact us to let us learn how we can help you.